Stuart houses for sale are located on Florida's east coast. Search Stuart houses for sale to see every home in the Multiple Listing Service (MLS) with maps and photos updated every 25 minutes! Check out today's new Stuart houses for sale or see all listings by clicking the easy search links or the buttons below. This website covers multi-counties and not just Stuart houses for sale.
Search By Lifestyle
Stuart Houses For Sale In Florida
Stuart houses for sale are located in the charming town and Sailfish Capital of the World north of Palm Beach on the Treasure Coast. Stuart is directly on the Atlantic Ocean, the St. Lucie River, and the Indian River Lagoon. It's not hard to see why America in Bloom named Stuart as the country's Most Beautiful City. Coastal Living voted Stuart FL the Happiest Seaside Town in 2016.
Living In Stuart
Residents and vacationers alike enjoy vast opportunities for recreation, shopping, and dining against a spectacular natural backdrop. Known widely as the "Sailfish Capital of the World," Stuart houses for sale offers a chance to live in a fantastic blend of small-town charm and convenient big-city amenities.
Real estate in Stuart is made up of a mix of single-family homes, spacious luxury estates, sweeping waterfront properties, and gated communities. A range of prices means everyone can find a Stuart home in their budget. There are homes that overlook the St. Lucie River with stunning views.
Houses, Condos, And Townhomes
You can also find golf course estates with top-notch facilities and beautiful surroundings. Key West designs are popular for homes with backyard pools. Stuart real estate also includes condos and townhomes for those who desire a lower-maintenance lifestyle.
Recreation for residents of Stuart homes includes a variety of activities both in and out of the surrounding waterways. Downtown Stuart has been revitalized from its original roots. The renovated Martin County Courthouse and the Lyric Theatre host cultural events for all ages.
Other annual town events include ArtsFest, the Riverwalk Music Series, Fall Craft Fest, Stuart Air Show, and the Treasure Coast Pirate Fest. Stuart's sailfishing title is renewed by enthusiastic participants in world-class fishing tournaments.
There are many ways for residents to stay active: practice your swing at public or private golf courses, take a relaxing stroll through a scenic park, or go swim at the beaches. The Children's Museum is a great way to stay entertained indoors on a particularly hot day.
Looking forward to Memorial Day 2020 in Stuart
Shopping In Stuart FL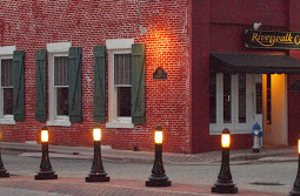 Stuart houses for sale are only a short drive away from great shopping and dining. The pedestrian-friendly, historic downtown features more than 60 local boutiques, shops, cafes, and restaurants. Shoppers will find the latest fashions, unique jewelry, home furnishings, and more.
Shopping And Dining In Stuart FL
Every Sunday, find fresh local goods at The Stuart Green Market and Live Music event, also held downtown. Nearby Jensen Beach has Treasure Coast Square Mall, which boasts over 120 stores, including Macy's, Express, and Gap. Those looking for tasty cuisine will find fresh seafood on many menus, in addition to Italian favorites, cafe treats, and more.
Easy Access To Beaches, Schools, And Airports
Travel in and around Stuart is simplified by the proximity to the nearby state highways, as well as the town's public bus transit and Witham Field airport. Residents of Stuart are served by Martin County School District. Private schools nearby offer alternative education.
Easy One Click Home Search Buttons
Advanced Search Tool