March 22, 2019 — For the first time, the Sewall's Point Ladies Tennis Team brought home the winning trophy for this year's Point-to-Point Challenge match at Sailfish Point. Sixteen women played for Sewall's Point in 8 doubles matches, winning 5-3 in a closely contested morning of tennis.
The team's Co-Captains, Bonnie Flint and Beth Daly presented the handsome silver cup at the Town Hall Meeting April 9th and it will reside at Town Hall until next year's event.
I"I dreamed up this event several years ago, thinking it would be fun to promote athleticism and new tennis friendships in our neighborhood. Thanks to the hospitality of Sailfish Point, we're now looking at a very successful tournament that promotes top competitive tennis and bragging rights for the hard-fought win. Interest is strong and I'm hoping it may continue for many years," Flint explained.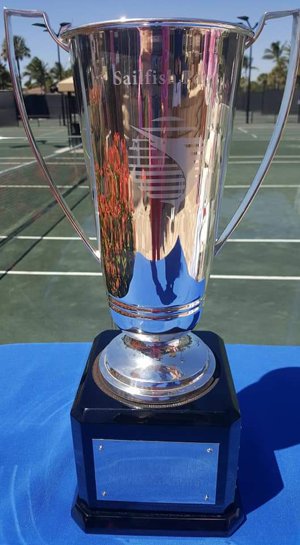 New this year, was the generosity of team sponsors - Sailfish Point Realty sponsored the Sailfish Point team and the Town of Sewall's Point got behind its neighborhood team, which all turned out in matching pink and orange tennis tops. Mayor Vinnie Barile and Commissioner James Campo were on hand for the event and attended the trophy presentation. Congratulations to our tennis players.
Sewall's Point is one of the best places to live in Florida! Living in Sewall's Point offers residents a rural feel with easy access to the area's rivers and the ocean. Visit our beautiful park, or check out houses for sale in this great town HERE.
Treasure Coast Insider blog has lots of info on what's happening on the Treasure Coast. Call Mona Leonard with comments or suggestions. 772-530-6131