Robbie Fulks House Concert
There's always something new going on in town. Sewall's Point happenings are abundant. With many interesting residents, Sewall's Point is a hotbed of amazing people and amazing things. Hope you enjoy getting to know the Town of Sewall's Point on a more personal level.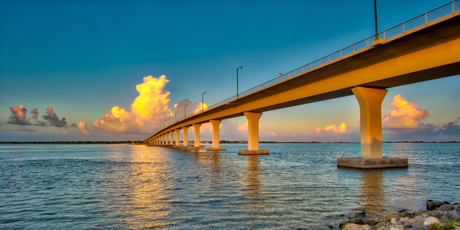 Robbie Fulks, A House Concert
By Mona Leonard, Sewall's Point Living Content Coordinator
What a pleasant surprise when Curt Grimmer invited me to a house concert taking place on January 26th at his home. Curt opened his lovely home up to friends and neighbors so we could all enjoy the beautiful country and bluegrass music of Robbie Fulks. Curt's been following Robbie's music for over 20 years and has seen him many times in concert across the country. Curt says, "Robbie's a really good writer."
Robbie's lyricism, music, charm and humor made for a great evening. Playing acoustic guitar and accompanied by talented violinist Shad Cobb, we were all treated to some knee-slapping, foot-tapping fun! It happened because Robbie was in between gigs (Orlando, then Miami) and asked his Facebook friends if anyone wanted to host a house concert. That's when Curt stepped up and created a great atmosphere in his home for all of us to enjoy.
Robbie's songwriting speaks to many of our hearts. In, "Where I Fell," he sings of what he calls, "the hollowed out small towns in the US." The abject poverty of the 1930's in the south seeps slowly into your mind as you realize the meaning of the lyrics in his music, and the truths they reveal. He's fond of Hank Williams and his early works and some of his music speaks to that.
"Alabama at Night" is another amazing example of his writing skills. It's about a sharecropper and his… education. He received two Grammy nominations for Folk Album and American Roots Song and his more recent Upland Stories, earned year's-best recognition from NPR, Rolling Stone and many others. You'll have to listen to them yourselves to gain an understanding of his unique way of bringing his words to life in music.
Robbie learned guitar from his dad and banjo from Earl Skruggs and John Hartford records. He attended Columbia for two years. Ronnie decided he'd rather be part of the Greenwich Village songwriting scene, and as he puts it, "other ill-advised pursuits."
He began playing Blue Grass in 1983 and taught at Old Town School of Folk Music for over a decade. He became a songwriter on Music Row in Nashville and helped define the "alternative country" movement of the 1990's.
His self-deprecating humor and earthy lyrics make for a delightful combination. He's had many appearances on radio and TV including the Grand Ole Oprey, the Laura Ingraham Show, PBS's Austin City Limits, NPR's Fresh Air and many more.
Robbie's played along with some of the greats and his theatrical credits include Woody Guthrie's "American Song" and Harry Chapin's "Cottonpatch Gospel." He's also juried guitar competitions and his current tour will be in California in late February.
Robbie says he's fortunate he has a good relationship with all three of his grown children, the youngest of which is 20. He wrote, "Needed," about kids growing up and when he speaks of them, he has a twinkle in his eye. It's apparent there's a deep love there.
Thank you Curt Grimmer, for opening your home to so many Sewall's Point residents. The evening was wonderful. Meeting Robbie and Shad and lots of our great residents was a joy. We're so fortunate to have neighbors like you.
You can visit Robbie's Facebook page at www.Facebook.com/RobbieFulksOfficial
Mona Leonard, Sewall's Point Living, Content Coordinator