Stuart Area Restaurant Discounts
Everyone loves saving money! The Stuart area restaurant discounts listed below will be sure to make your mouth water. Locals (and other smart people) have the inside scoop on great food and restaurant discounts. Check out these dollar-saving Stuart area restaurant discounts in person.
With the Treasure Coast's beautiful waterways, there's an abundance of waterfront restaurants with delicious food and atmosphere...not to mention the view. To make it even more appealing, here's a short list of waterfront eateries... and savings!
The Sailor's Return Happy Hour
Sailor's Return located where the north and south forks of the St. Lucie River converge. Waterfront dining at it's best with a formal dining room overlooking Sunset Bay Marina for intimate dinners. Beautiful indoor lounge with great ambiance and dockside tables wrapping around to an outdoor bar, dance floor and bandstand, lend a positively upbeat way to spend the evening or enjoy lunch in the open-air on one of Stuart's perfect days. Great live music Happy Hour at both bars from 3:30pm-7pm $5 drink specials and appetizers to die for under $8. My personal favorite is the gourmet flatbread of the day. Served with locally famous Mrs. Peter's Smokehouse fish dip!
Conchy Joe's
Enjoy live music, waterfront bar and restaurant at Conchy Joe's Seafood in Jensen Beach. Located directly on the Indian River Lagoon, there's lots to enjoy. Listen to the sounds of local musicians Thursday through Monday while enjoying homemade, delicious conch chowder, calamari, raw bar, or delicious fresh-caught (never frozen) fish. The full service menu also includes salads and burgers. The wood burning grill gives filet mignon, NY strip and chicken dishes that special flavor.
With "old Florida" charm, and atmosphere, enjoy the most exotic of island drinks too! Happy hour menu and drinks are available everyday from 3-6 pm for significant savings. With an extensive kid's menu, bring the entire family for a great time.
A Little Background - The Story Behind the Story - Dolphin Bar and Shrimp House
The Dolphin Bar and Shrimp House has that old Florida charm and an interesting history. With terrific happy hour discounts on drinks and hors d'oeuvres, and a view that's spectacular. Many years ago, I had the fine fortune of taking care of Ralph Evinrude (yes, that Evinrude). He was charming and delightful and he taught me how to view life's shortcomings with acceptance and love.
He married Frances Langford in 1955 and they settled on the St. Lucie River off of Palmer St at the north end of Sewall's Point. It was close to his Evinrude motor testing facilities. On the Indian River Lagoon, he built a restaurant called Frances Langford's Outrigger Resort. For many years, it's been a local treasure with great food, a beautiful view, and a shrine. The great works Frances Langford so dedicatedly gave to her country during WWII, singing in Bob Hope's USO shows and starring in over 35 movies, are apparent when you enter this expansive restaurant and bar. Delicious catering with a pleasant and professional wait staff.
Although the name Frances Langford's Outrigger is now gone from the marquis, you'll see all the history of Ralph and Frances at the Dolphin. Come see their sweet love affair, or visit the exhibit of her works at the Elliott Museum on Hutchinson Island. Frances continued her philanthropy locally by giving huge financial gifts to Martin Memorial Hospital (now Cleveland Clinic) where I worked for over 25 years. Her legacy continues today through the Frances Langford Heart Center in Stuart.
The Twisted Tuna
Nestled in the Manatee Pocket, a protected cove in the fishing village of Port Salerno, The Twisted Tuna bustles with nightlife, live entertainment daily, and discounts. Happy hour is 2:30 pm to 6:30 pm that includes money off on mixed drinks, special house wine and beer discounts, and $5 "bar bites."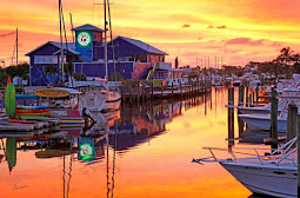 If you're not in the mood for waterfront, try these great Stuart area restaurant discounts, for an amazing food experience.
Florentino's
Stuart area restaurant discounts are all over the menu at Florentino's Italian Restaurant. With savory Italian aromas seeping into the dining area from the kitchen, my mouth starts watering when I walk through the door. The best chop steak and fries in the county or perhaps the best clams linguine (I get the angel hair) in white sauce you've ever had. Daily 2 for 1 specials abound. Tino (owner and chef) makes some of the best Italian comfort food on the Treasure Coast.
The Black Marlin
Stuart area restaurant discounts also includes The Black Marlin. With $5, $6, and $7 appetizers and two-for-one drinks from 4pm to 6pm Mon-Sat, it's a delicious decision to stop in. The menu includes Bam Bam shrimp, grilled portabella caprese and fried calamari. Enjoy a warm, inviting atmosphere with great food. Shop downtown or take in a performance at the Lyric Theatre, or perhaps a stroll down the boardwalk over the St. Lucie River. All are just steps away.
For more information on these wonderful restaurants and others, contact Mona Leonard at StuartHousesForSale.com, your Treasure Coast Insider blogger.