Stuart Area Restaurants
The Stuart area restaurants below will be sure to make your mouth water. Locals (and other smart people) have the inside scoop on great food and restaurant discounts. Check out these dollar-saving Stuart area restaurants in person.
The Sailor's Return Happy Hour
Sailor's Return is where the north and south forks of the St. Lucie River converge. Enjoy riverfront sunsets and views of Sunset Bay Marina. The historic Old Roosevelt Bridge waits for its next "draw" within just a few feet of the canopied bandstand, dance floor and bar.
With a formal dining area for more intimate dinners and the inside bar's ambiance, Sailor's Returns' amazing upbeat atmosphere is a great way to spend the evening... or a spectacular afternoon. Great live music Happy Hour at both bars from 3:30pm-7pm with $5 drink specials and delicious appetizers for under $8. My personal favorite is the gourmet flatbread of the day, with locally famous Mrs. Peter's Smokehouse fish dip!
Conchy Joe's
Enjoy live music, waterfront bar and restaurant at Conchy Joe's Seafood in Jensen Beach. Located directly on the Indian River Lagoon, there's lots to love. Listen to the sounds of local musicians Thursday through Monday while enjoying homemade, delicious conch chowder, calamari, raw bar, or delicious fresh-caught (never frozen) fish. The full service menu also includes salads and burgers. The wood burning grill gives filet mignon, NY strip and chicken dishes that special flavor.
With "old Florida" charm, and atmosphere, enjoy the most exotic of island drinks too! Happy hour menu and drinks are available everyday from 3-6 pm for significant savings. With an extensive kid's menu, bring the entire family for a great time.
Jan's Place
There are many Stuart area restaurants to choose from. Just across from the Indian River Lagoon, Jan's Place is an old slice of Americana. Jan's has delicious breakfasts with a great atmosphere and juicy handmade burgers. The portions are huge! Jan's is located in Jensen Beach, where pineapples were grown in the late 19th and early 20th centuries. By the early 1900's, John Laurence Jensen was shipping over a million boxes of the delicious fruit every June through July. The town of Jensen Beach was born and the "Pineapple Capitol of the World" became it's tag.

Basil Garden of Palm City
The best Thai cuisine on the Treasure Coast, Basil Garden in Palm City offers a complete Thai menu, so the options are many. Located just over the Old Palm City Bridge on the right, Lucky (owner) will help you choose if there are too many choices for you. She and her staff are able to create amazing dishes for everyone's palate. Basil Garden has the best peanut sauce I've ever eaten. The cucumber sauce is my personal favorite. Dessert is an extra special treat.
The Catfish House
The Catfish House in Hobe Sound is one of my favorite places for Stuart area restaurant discounts... and everything Southern. Their portions are so big, many patrons come in 4-6pm and share their meals, with no sharing charge! Great appetizers and the most perfectly fried fresh water catfish with the lightest batter you've ever bitten into. It comes Cajun-style too! The mouth-watering gator bites are my personal favorite. You'll never eat better gator. The sauce that comes with it is delicious too. Even kids (I have 2 little granddaughters) love them. Fried oysters, frog legs and grits round out the "Southern" in the full service menu. Delicious and large portions.
Dolphin Bar and Shrimp House - A Little Background - The Story Behind the Story
The Dolphin Bar and Shrimp House has terrific happy hour discounts on drinks and hors d'oeuvres, and a view that's spectacular. It's also home to an amazing story. Many years ago, I had the good fortune of taking care of Ralph Evinrude (yes, that Evinrude). I was a Respiratory Therapist and he was charming and delightful. He taught me how to view life's shortcomings with acceptance and love.
He married movie star and WWII entertainer, Francis Langford in 1955 and they settled on the St. Lucie River, just off Palmer St at the north end of Sewall's Point (now Langford's Landing). It was close to his Evinrude motor testing facilities. On the Indian River Lagoon, they built the restaurant and called it Francis Langford's Outrigger Resort. There were even rooms to rent on the lagoon. For many years, it's been a local treasure with great food, beautiful views and a shrine to his bride.
The great works Francis Langford so dedicatedly gave to her country during the war years are apparent. Singing in Bob Hope's USO shows and starring in over 35 movies, she became an icon. She was just as sweet in real life as she looks here.

Although the name Frances Langford's Outrigger is now gone from the marquis, you'll see all the history of Ralph and Frances at the Dolphin. Come see their sweet love affair, or visit the exhibit of her works at the Elliott Museum on Hutchinson Island.
With an expansive restaurant, several bars, and great views of the Indian River Lagoon, happy hour drinks and appetizers are a local favorite. The Dolphin also provides delicious catering with a pleasant and professional wait staff.
The Twisted Tuna
Nestled in the Manatee Pocket, a protected cove in the fishing village of Port Salerno, The Twisted Tuna bustles with nightlife, live entertainment daily, and discounts. Happy hour is 2:30 pm to 6:30 pm that includes money off on mixed drinks, special house wine and beer discounts, and $5 "bar bites."
Florentino's
Stuart area restaurant discounts are all over the menu at Florentino's Italian Restaurant in Stuart. With savory Italian aromas seeping into the dining room from the kitchen, my mouth starts watering when I walk through the door. The best chop steak and fries in the county are whipped up by Tino (owner and chef). He also makes the best clams linguine (I like the angel hair) in white sauce you've ever had. Daily 2 for 1 specials abound on this complete menu.
Fujiama Hibachi
Authentic Japanese cuisine that's fresh, healthy and delicious, it's always a performance. Great scallops, filet mignon, sushi, shrimp and more, with great chefs to dazzle everyone on table-side Hibachi grills... with three locations to choose from... Stuart, Vero Beach and Melbourne.
Watch the very end! I wasn't expecting that!
The Black Marlin
Located in the center of downtown Stuart, The Black Marlin has $5, $6, and $7 appetizers and two-for-one drinks from 4pm to 6pm Mon-Sat. It's a delicious reason to stop in. The menu includes Bam Bam shrimp, grilled portabella caprese and fried calamari, among other great dishes. Enjoy a warm, inviting atmosphere and great food with downtown Stuart at your fingertips. Shop, or take in a play at the Lyric Theatre, or perhaps a stroll down the boardwalk on the St. Lucie River. All are just steps away.
Diamond Tearoom and Bistro
For a unique experience, check out the Diamond Tea Room and Bistro. If you're planning a baby shower, Bar/Bat Mitzvah, birthday or engagement party, Terry outdoes herself with a killer menu. From Boston lobster cakes to risotto funghi, there's deliciousness throughout the menu.
They offer chicken pot pie, Queen Margaretta flatbread, gazpacho, salmon and lots more. Terry's soups, salads and chowders, stews and amazing desserts, help round out a complete menu.Terry's high tea and lecture series is a delight. Catering (including private catering) is available as well. Located on A1A in Stuart, it's easily accessible a real treat.
11 Maple Street
Locally known as offering the finest, most delicious cuisines, 11 Maple Street is a Jensen Beach icon. Their famous elk tenderloin, pan fried Caicos conch, and wood-grilled Spanish octopus are melt in your mouth delicious. The rare seared Wahoo sushi comes with quail egg salad and date jalapeno salsa.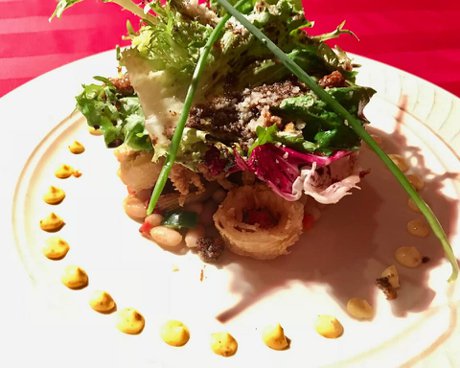 For more information on these wonderful restaurants and others, contact Mona Leonard at StuartHousesForSale.com, your Treasure Coast Insider blogger, or call 772-530-6131.