Stuart FL Area Parks
There are so many great Stuart FL area parks to choose from all along the Treasure Coast. This shortlist is based on a lifetime of living here and enjoying all that Stuart FL area parks can offer. With each unique property, comes a variety of amenities to enjoy. The abundant wildlife along the Treasure Coast calls many of these parks home. These beautiful Stuart FL area parks include state parks, preserves and wildlife areas.
Jonathan Dickinson State Park
This personal favorite for a large park comes from years of enjoying the amenities... and the thrilling unexpected encounters. On a hike in the late eighties, in the mangroves in the park, I saw the largest diamondback rattler I've ever seen, before or since. It was as big around as a tin can. On another occasion, I got to watch a little four foot alligator mosey across the park road. He was in no hurry.
Deer, wild hog, racoons, an occasional bobcat and all sorts of birds including Bald Eagles, are within site, if you're lucky enough to be in the right place at the right time. Plenty of areas in the park are not visited by the wildlife due to the quantity of humans in those concentrated areas. So, if you're faint of heart, take heart, it's safe if you don't wander too far.
With habitats including sand pine scrub, pine flatwoods, mangroves and river swamps, this one's straight out of a 1940's movie of a tropical jungle and plenty of scrub area to view from the observation tower. There's canoes to rent to take down the Loxahatchee River and the park is well known for its Camp Murphy Mountain Bike Trails.
In the 1930's, Trapper Nelson homesteaded on the banks of the Loxahatchee River. He trapped and sold furs and became known as The Wildman of the Loxahatchee. After his death in 1968, the land was acquired by the state and in 1942, the park became a radar training camp during WWII.
Like many Stuart FL area parks, enjoy cabins, fishing, kayaking, horse trails, swimming and camping. With picnic tables and bathrooms, the park is a terrific stop for the day, a nice weekend getaway or to stay as long as you wish. Entry is $6 per vehicle.
St. Lucie Inlet Preserve State Park
At the mouth of the St. Lucie Inlet lies one of Martin County's most beautiful places to enjoy riverfront views and nature. The park is accessible by boat and is situated at the northern end of spectacular Jupiter Island, home to the rich and famous. You'd never know it from the park. The lush flora includes hammocks of live oaks, cabbage palms, mangrove forests and even wild lime.
This Florida state preserve has a pristine beach on the Atlantic Ocean and a boardwalk from the docks to take you there. Summertime brings egg-laden loggerhead, green and leatherback turtles to lay their eggs and await the miracle just a few weeks later. Some environmental groups have expeditions to safely watch this miraculous event occur.
Visitors come to swim, sunbathe, or picnic at the pavilion on the quiet beach. Others make the trip for the great surf fishing. snorkeling and scuba diving. The unmolested park is a favorite for students because of the native fauna and flora typical for a Florida barrier island.
Hours 8 a.m. until sundown, 365 days a year. Fees $3 per boat. Please use the honor box to pay fees. Correct change is required. For more info, call 772-219-1880
Atlantic Ridge Preserve State Park
The quiet and seclusion of this scenic area attracts locals and visitors alike. These sloping wetlands offer a peaceful retreat from the world yet it's minutes from Stuart's city center. There's an abundance of sabal palms (our state tree), live oak hammocks, and wild coffee (easy to grow native flora). The 4,886-acre preserve is located between U.S. 1 (Federal Highway) and the South Fork of the St. Lucie River.
The preserve gently slopes toward the St. Lucie River changing from a hydric hammock to wet flatwood and wet prairie
The land changes from hydric hammock to wet flatwoods and wet prairie as it slopes toward the river, away from U.S. Other native flora includes saw palmetto and wax myrtle. The species of birds are numerous and you'll often see Great Blue herons, various egrets, Sandhill cranes, wood storks, red-shouldered hawks and bald eagles. .
Atlantic Ridge Preserve State Park has limited access. Contact Jonathan Dickinson State Park at 772-546-2771 for the gate code. The Florida Park Service is working to allow more visitors and programming in the future. Atlantic Ridge Preserve is at the terminus of Southeast Paulson Avenue in Stuart, Martin County.
Hours
8 a.m. until 5 p.m., 365 days a year. Call Jonathan Dickinson State Park at 772-546-2771 for the gate code. Fees $6 per vehicle (2 to 8 people), $4 for single-occupant, $2 for pedestrians and bicyclists. Please use the honor box to pay fees. Correct change is required.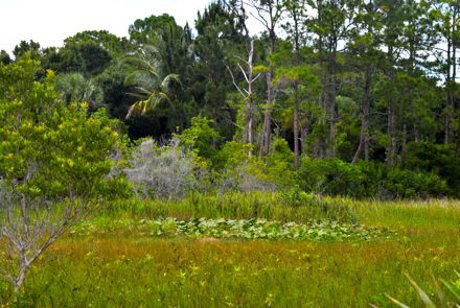 Fort Pierce Inlet State Park
Parks near Stuart FL include this spectacular half-mile beach. It's great for swimming, snorkeling, scuba diving and surfing. For every beachgoer, it's the perfect spot to catch some rays, relax, picnic or walk the beach
The Navy Frogmen trained at Dynamite Point during WWII. Now, it's an amazing bird sanctuary and will awe any bird-watcher. The south end of the park is ideal for anglers looking to bring dinner home. With delicious salt water fish in abundance, it's a favorite pastime on the Treasure Coast.
Jack Island Preserve, just a mile north of the park, has bike and walking trails for hiking for nature study. At the west end of the Marsh Rabbit Run Trail, visitors can climb an observation tower for a bird's-eye-view of the Indian River and the Hutchinson Island.
8 a.m. until sundown, 365 days a year
$6 per vehicle
772-468-3985
Savannas Preserve State Park
One of my favorite Stuart Fl area parks is The Savannas as we call it. The park's scenic landscapes represent what the first pioneers would have seen in the area. Prior to growth in the area, this basin marsh extended throughout South Florida.

Pavilions and picnic tables are available near the center and at trail heads throughout the park. Canoeing, kayaking and fishing in the wetlands are popular recreational activities. Photographers and wildlife enthusiasts enjoy the habitat diversity this undisturbed area affords.
The park boasts over 15 miles of multi-use trails that provide ample opportunities for hiking, bicycling and horseback riding. Canoe trips and scheduled guided walks are available by reservation.

8 a.m. to sundown, 365 days a year..
$3 per vehicle. Use the honor box; correct change is required.
Location2541 S.E .Walton Road Port St. Lucie FL 34952
772-398-277
Blowing Rocks Preserve
With over 60,000 annual visitors, this pristine preserve is the most visited site of the Nature Conservancy's 400 preserves here in the United States. The main attraction is the mile-long rock formation separating the sand from the sea. During high tide and a choppy sea, plumes of water shoot 50 feet in the air through the rocks. At low tide, comb the shoreline for shells, fossils and great photos.
Much of Florida was formed on limestone. This preserve is part of the Anastasia Formation of limestone and it's unusual because of the exposure of the formation here. The rock was formed over 2.5 million years ago when Florida's sea levels were much higher. As coral reefs break down over millennia, carbonate rock (limestone) forms. This is the foundation for much of Florida.
In fact, these limestone formations are made from quartz and carbonate rock called coquina. It's actually shell upon shells compressed together over time. This type of rock is only found on Florida's east coast and Blowing Rocks is one of the few places it's visible for us to enjoy.
An Ecological Treasure
The preserve extends from the Atlantic Ocean to the Indian River with over 250 native plant species including hardwoods, sea oats, gumbo limbo and a mangrove swamp. A 20-year period of removing invasive plants has yielded a flourishing, biodiverse habitat. In addition to wildlife, four sea turtle species come back year after year creating over 600 turtle clutches with an average of 100 eggs per clutch. Fact: Female turtles visit the shore several times a season to lay more eggs.
Adult and baby turtles can get trapped in the craggy rock formations during the season. The Nature Conservancy manages the Florida Sea Turtle Rescue Program and every morning during nesting season, volunteers and staff search for turtles trapped in the rock formations to release them into the ocean.

Avalon State Park
Avalon has more than a mile of increasingly rare undeveloped beachfront. Dune crossovers protect the fragile ecosystem and the park is ideal for swimmers, snorkelers, fishermen and sunbathers. Swimmers and snorkelers are advised to be cautious of underwater obstacles left behind by amphibious warfare exercises during World War II. Visitors can enjoy a meal at sheltered picnic tables overlooking the beach. Launch a canoe of kayak No lifeguards on duty.
Fishing here proves abundant with Snook, Red/Black Drum, Bluefish, Pompano and Whiting. Fishing license may be required. All fishing within the park must conform to regulations concerning size, number, method of capture and season.
This Stuart FL area park offers four medium-sized pavilions with barbecue grills located off the main parking area. They are available on a first-come, first-served basis. Electric and water are not available. Two public showers are located in front of the restroom to rinse off at the end of the day and hop in your car.
Snorkeling is a popular recreational activity, weather permitting. Snorkelers can enjoy the beautiful sea life and most of the time, the water is as crystal clear as the Bahamas. There are no lifeguards on duty, so be careful, especially around the concrete and steel structures created for WWII training purposes.
8:00 a.m. until sundown, 365 days a year.
2.00 per vehicle. Please use the honor box to pay fees. Correct change is required.
Limit 8 people per vehicle.
(772) 468-3985
DuPuis Wildlife and Environmental Area
John G. and Susan H. DuPuis, Jr. Wildlife and Environmental Area (WEA) consists of nearly 22,000 acres in Palm Beach and Martin counties and adjoins the J.W. Corbett Wildlife Management Area to the east. Originally, the White Belt Ranch, a working livestock ranch, the area was once part of the Everglades ecosystem. Drainage changed the hydrology of the area and the South Florida Water Management District has restored portions by rehydrating the interior wetlands.
With a Cyprus swamp, pinelands and a freshwater marsh, there's something for every explorer. Only hunting is permitted during the season to quota hunt permit holders and through-hikers on the Ocean to Lake Trail. an official side trail of the Florida Scenic Trail. Turkey, hog and deer are plentiful. There are 35 miles of hiking trails and parking for hikers is at Gate 2.
An equestrian center at Gate 3 has horse barns, paddocks, campsites, restrooms with showers, a dump station, and a trailhead marking the beginning of 40 miles of equestrian trails. Children under the age of 16 are required to wear a helmet when horseback riding on public lands. All horseback riders must have proof of current negative Coggins Test results for their horses when on state lands.
Designated campgrounds as well as primitive campsites are available along the Ocean to Lake Trail. River otters, feral hogs, coyotes, bald eagles, alligators and white-tailed deer call this expansive preserve home.
Anyone camping on DuPuis (except hunters during the quota permit hunts) must obtain a Special Use License from the SFWMD in advance. Dogs must be leashed in this Stuart Fl area park.
John D MacArthur Beach State Park
Nestled on an Atlantic Ocean barrier island, John D. MacArthur Beach State Park is the only state park in Palm Beach County. It is an environmental treasure which has been preserved for present and future generations to experience.
With 1.6 miles of pristine beach, swimming, snorkeling, and much more to discover, the possibilities of exploration and fun are endless! Visit the Nature Center and the Beach Outfitters Gift Shop. Discover the amazing plants and animals in the estuary by standup paddle board or kayak. Hiking trails and picnic pavilions are available.
Take advantage of the many offerings throughout the year: daily nature walk, recreational skills lessons, MacArthur Under Moonlight concerts, school programs, summer camp, and much more. Open daily.
For more information about Stuart FL area parks, contact Treasure Coast Insider Blogger Mona Leonard at 772-530-6131