Jensen Beach Homes

Jensen Beach homes are in a stunning riverfront town on the Treasure Coast. Recently named one of the best places to retire, Jensen Beach is a community known for its hospitality, easygoing lifestyle, and ideal year-round weather. Those who want to stay active will have the opportunity to do so with golf courses and many activities on the water. Homes in Jensen Beach are surrounded by natural beauty, in addition to excellent shopping and dining.
Jensen Beach real estate is a mix of single-family homes and condos. Families, retirees, and everyone in between will find a home in Jensen Beach that fits their lifestyle needs and budget. There are traditional neighborhoods, exclusive gated communities, country clubs, upscale estates, senior living, and more. For those who desire a lower-maintenance lifestyle, the town homes and condos of Jensen Beach are an ideal blend of convenient amenities and stress-free upkeep. Open lots offer the possibility to build your dream home in Jensen Beach.
The houses in Jensen Beach are never far from recreation. Enjoy a day on the water at the famous sandbar. Of course, the magnificent oceanfront views are a standout feature, but the beach is not the only place for activities. Watch the kids play in the interactive fountain at Indian Riverside Park, or take a stroll down the beautiful pier. In addition to swimming, fishing, surfing, skiing, and boating, residents can play a game at Eagles Marsh Golf Club, or spend time learning new historical facts in a museum.
Though pineapples no longer grow here, the town was once hailed as the "Pineapple Capital of the World," and still holds an annual festival in celebration of the fruit, complete with carnival games and live music. Cultural outings include the performing arts lineups at the Barn Theatre and the Lyric Theatre, and the Environmental Studies Center has interactive classes to enhance your new knowledge. The lively downtown area serves as a gathering point for many events, such as Mardi Gras parties and the Pineapple Festival.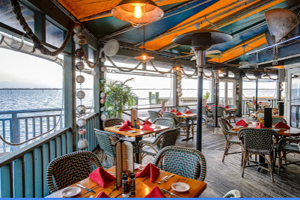 Jensen Beach homes are also close to great shopping and dining opportunities. The walkable downtown has outdoor cafes, specialty boutiques, and galleries, perfect for spending a leisurely afternoon. For serious shoppers, Treasure Coast Square Mall features over 120 retailers to explore, including Macy's, Express, and Gap. There is even a Regal 16 Cinemas inside the mall to catch the latest blockbusters. Jensen Beach is known for its fresh local seafood, served at many establishments around town, such as Crawdaddy's, Kona Beach Café and The Magic Oyster. You can also find excellent worldwide cuisines at local restaurants.
Travel in and around Jensen Beach is easy thanks to the nearby state highways and Martin County's public transit system. Witham Field Airport is only a short drive away in Stuart. Residents of Jensen Beach are served by Martin County School District, recognized for its high-quality programs. For alternative education, there are also private schools in the area.